This week our regular share boxes have several pickling cucumbers in them. The plants are just starting to bear. Within the next couple of weeks we will start taking orders for bulk amounts. So keep checking the box post each week.
Pickling cucumbers are designed for making pickles but they are delicious for fresh eating as well. They are great sliced for a salad or sandwich. A little oil and vinegar and dill weed can transform this little gem into a delightful side dish. Or chop them up finely to make some Taziki sauce. I have included a few links below for you to give a whirl if you are looking for some ideas.
Click on photos for the links.
Or enjoy this simple classic side dish…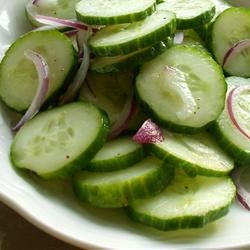 Or give this Tzatziki Sauce a try……
Happy Cooking!
-April